Band Members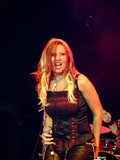 Julie Westlake - Vocals
From an early age, everyone knew there was something special about Julie. Her many talents didn't take long to show themselves. A singer and entertainer from the time she could speak, she perfected her craft at her local church and schools choirs, high school musicals, and plays. Now a dynamic rock and roll singer, model and spokesperson; it seems the sky's the limit for this beautiful, small town siren. Before hitting the world stage with her band, Hydrogyn, Julie sang in local amateur competitions. With each success and all the praise those successes garnered, she was confident she was on the right track. She eventually formed her first band, a country music outfit with which she added some impressive achievements to her resume. Julie suddenly found herself opening for country music superstars such as Shenandoah and headlining several Clear Channel-sponsored festivals, thrilling thousands and building a network of eager Julie Westlake fans. Julie began starring in television commercials and working as a spokes model. She never dreamed that all these accomplished were merely the beginning of her budding career. Julie's world changed forever in 2004 when she abandoned her country music roots and dove head-first into the world of rock music with the birth of Hydrogyn. Overnight, Hydrogyn moved from conception straight into the belly of the Rock and Roll Beast. Within months of their founding, Julie and the band signed a deal with Pepsi and found themselves playing at a NASCAR Winston Cup race, introducing tens of thousands of people to the magic of Hydrogyn and Julie Westlake. Fans watched in awe as she and Hydrogyn unleashed their own brand of melodic hard rock from the Mountain Dew stage, effectively stealing the show. The Hydrogyn buzz was rapidly growing and Julie found herself the new spokes model for Off The Rim NASCAR Apparel. As Julie's and Hydrogyn's popularity soared, endorsements and other opportunities abounded. Sponsorships with Harley Davidson (WV), Budweiser Chopper and Budweiser were only the beginning. Media attention also skyrocketed as magazines featured Julie on their covers. Julie has been featured in Flash (Italy), Firework (UK), and Metallian (France), while Crave Tread Rock Memorabilia signed Julie as a spokes model. Hydrogyn continued to explode in 2006 with the album "Bombshell" produced by the legendary Michael Wagener (Ozzy, Metallica, Skid Row, Alice Cooper and many more). Bombshell found its way onto three separate Billboard Charts, catapulted Julie and the band on the international stage. The momentum continued in 2007 with Hydrogyn's live Hydrogyn album "Strip 'em Blind Live" and the DVD "Live at Godiva's". Hydrogyn also launched its first of several European tours. Julie found herself on television again. But, this time she was the subject rather than the products she was endorsing. A two-part series on FOX news chronicled her rise to fame. With her fan base rapidly expanding, the media attention continued. Julie was featured on the 2007 covers of Autona (Germany) and twice more in Flash. She also worked as a spokes model with Backstage Clothing in Grenoble, France as well as Easy Rider and Gem Stone Custom Bikes. The magic continued with a Flash (Flash Magazine) in 2008 as Hydrogyn began their relationship with Global Music and signed a three-record deal with DR2 Records and treated fans to a Julie Westlake calendar. Hydrogyn released their first album on DR2 "Deadly Passion" in the summer of 2008 and toured the United States in its support. Hydrogyn is currently working on their second release on DR2 as Julie continues to expanded her horizons, adding JulieWestlake.com and her own clothing line "Royal Rocker" to her arsenal. Also, be looking for a solo album from Julie in the near future. Julie Westlake is a down-to-Earth country girl with big time charisma and a voice to match. Her talent and work ethic have brought her far. But, it's only a spark when compared to her potential. She is admired by friends and fans alike for the person she is, as well as the star power she possess. You can get more Faq's on Julie at Juliewestlake.com .

Fave Food: Mexican
Fave Drink: Diet Coke
Kids: Not Yet
Fave Past Time: Watching America's Next Top Model
Born: Huntington, WV
---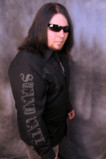 Jeff Westlake - Guitar
Guitar player, song writer and co founder of the band in January 2004. Jeff has recorded 6 total full length releases since 2000. 4 of those of course are with Hydrogyn and the other two with his name sake WESTLAKE. Dio, Michael Schenker, Tony Iommi, Ted Nugent, Aerosmith and Dimebag are among just a few of the influences Jeff will mention when asked what he brings into the band. "I just like great music and great execution and those guys just always deliver no matter what." Jeff is currently producing other artist and also writting and getting ready for the November release of the yet un named HYDROGYN release. "Been a long year with Julie being ill and not being able to play but I can honestly say with what I am hearing so far for the new record I am getting very excited. Julie sounds better than ever and that in its self is amazing."

Jeff Plays: Washburn, Gibson and GV guitars
Amps:Randall RM100
Strings:Ernie ball 52/10 strings.
Born: Huntington, West Virginia
Fave Food: Sushi
Kids: Yes
Pets: Yes.
Fave Drink: Blue Moon
Fave Past Time: Pro Wrestling
---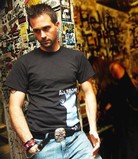 Joe Migs - Drums
Joe started drumming around the age of 10 and later went on to study percussion at the Aaron Copland School of Music at Queens College. Joe has been a fixture on the local scene (NY) for some time now. In addition to being a free-lance drum instructor he has performed with quite a few NY based rock and metal bands including Duro, Sanity in Ashes, Narcotic, Destroying the Evidence, Half Circle Drive and Catalyst. Joe is also a member of the indie rock/metal band khz and now commands the throne for HYDROGYN.
---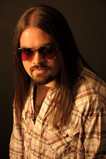 Rev. Davo Chandler - Sound
The man that makes it all sound good. Davo has been with the band since the summer of 2006. Hired by Jeff after running into him at a movie theater in May of 2006 he has been the only person behind the board for live sound since that time. Going all over the world with the band he was the first new addition to the band that made the difference and soon followed Chris and things were set form there. Davo also is a big part of the creating process in the band and handles alot of duties in the studio as well. Look for him wherever you see the band as he is the only soundman the band has had to this point and unless he dies or we want to kill him he will be the only one.

The Rev uses: Electric of all types
Born: Houston, Texas Height:
Fave Food: Mexican... The good Kind
Kids: Yes
Pets: Steve
---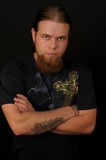 CHRIS SAMMONS - BASS AND SCREAMS
Bass Player in the band since 2006 except for a brief stint in 2010. Chris came back in time to finish up vocals and Bass lines for Judgement. Chris has been a musician pretty much his entire life starting in school, While working his way through every instrument the school band had to offer Chris found the bass and knew that was it.
Attending Moorehead college in Kentucky Chris pursued his degree in Music. Joining thr band in July 2006 he has been on every release since the Strip'em Blind Live Cd release in 2007.
Chris plays and endorses Warwick basses and Amps.

Fave foods: Any and everything
Fave Drink: Any Energy drink
Fave past time: Playing PS2
Kids: Not that we know of
Born: We are not sure of that.