Julie Jeans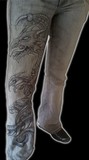 Order today your very own, one of a kind pair of jeans, designed by Julie Westlake herself. After many compliments by fans and clothing designers, Julie is now making available to everyone her very own unique, one of a kind, and sure to fit jeans. As an everyday woman, Julie knows how hard it can be to order jeans online and insure that perfect, comfortable fit.
So how does this work?
You choose the pair of jeans you would like to have designed. Choose a pair you already have, or purchase the pair you would like to have created,in a one of a kind look, just for you. Its recommended that you choose a light color jean, like that pictured here.

You mail your jeans to the address provided after you order is placed, and your jeans will be airbrushed with the design shown. Since airbrushing is done by hand, no two pairs of jeans will be the same, giving you your own unique, one of a kind, pair of jeans designed by Julie. Please allow three weeks for your jeans to be returned.
Send questions via the Hydrogyn Contact Form.