Members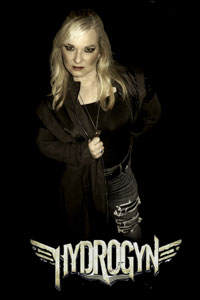 HOLLY HINES FREED - Vocals
Sometimes, the stars just align.
That's the general feeling for Holly Hines Freed, Hydrogyn's new lead singer.
"I knew all along this was going to happen," she said of becoming the band's frontwoman. "I didn't know when or how, but I knew it would. Then, everything just lined up at the right time."
That was last year. Hydrogyn founder and guitarist Jeff Westlake contacted Hines Freed. They had known each other for about a decade and had worked together on a few projects. They had a mutual respect for each other as artists, and they also had become friends.
"He contacted me last summer and told me that Erica (Parrott) wasn't going to be in the band anymore and, of course, (Hydrogyn bassist) Chris Sammons had unfortunately passed away," she said. "He said he found himself needing a frontwoman and a bass player for the band.
"He said, 'I've always wanted you to be the lead singer for Hydrogyn.' Let's just say I didn't have to think about it. And, I just happen to have a great bass player in Jacob (Freed, her husband), too!"
So, the pair joined Hydrogyn, and the band began working on "The Boiling Point," which will be released soon.
"This album has given me the opportunity to really write about emotional stuff across the spectrum," Hines Freed said. "There are songs about deep sadness, loss and grieving. Some are about sheer anger.
"The Boiling Point. That title really sums up my feeling for the entire album. So many emotions that culminate in this boiling point."
Westlake said it's more than Hines Freed's voice that makes her the perfect choice to be the band's lead singer.
"It's all of the energy, outside of the box, no fear, willingness that that makes her not only an outstanding vocalist but a phenomenal person, period," he said. "Holly just musically is on the same wavelength as me. She understands what Hydrogyn is, and she also understands what I want without asking.
"The same can be said of me when dealing with her. It's just that easy and amazing."
For the last decade, Hines Freed has found her voice as a rock and metal singer. But she said her southern roots always will define her.
"I started singing country music and gospel," she said. "I was raised in a Southern congregation, and we sang every Sunday and Wednesday. My family all are singers. I was raised in a small-ass town in southern Tennessee, so there was not a lot of demand for rock singers.
"But, I always loved rock music. I guess I was in my early to mid-20s when I began singing rock. And it's just progressed from there."
She said she idolizes Ann Wilson of Heart.
"She is, to me, the epitome of female rock singers," Hines Freed said. "But, I also love Pat Benatar, Lita Ford, so many others."
She said she's heard other compare her vocal style to Debbie Harry of Blondie, Lzzy Hale of Halestorm, Amy Lee of Evanescense, Janis Joplin and, going back to her southern roots, Patsy Cline.
"I would describe my voice as southern rock," Hines Freed said. "I have such southern roots. Country, blues, you never really stray too far from your roots. Blues, being the backbone of rock music anyway. I feel that my voice is very southern rock. I love those melody lines and hooks that Southern is known for. But I love the aggression and power of those bands like Maiden, Dio, even Queen.
"Over the years, the band's I've been with … the music went from rock to a little more metal edge, and it got a little more aggressive. My vocals got a little more aggressive as well. I like exploring that side of me."
But, she said the songs she's doing with Hydrogyn is "my favorite stuff I've ever worked on."
"I can't even describe it," she said. "The closer it gets, I'm just champing at the bit. This is the first time I can go out, get in my car and play these songs, listen to them and I don't cringe.
"A lot of times, it's almost torture listening to myself. For some reasons, this is different. I love the material. I'm much more excited. I cannot wait."
And, she is still overwhelmed to take the reins as lead singer of Hydrogyn.
"Even though over the last 10 years, I just knew this was coming, it still is just such an honor to me," she said. "It's almost surreal. I'm dumbfounded. It's a huge privilege to follow the singers (original lead singer Julie Westlake and Parrott) Jeff has already had in Hydrogyn. I feel very honored."
Westlake concurred.
"I think in your life as a musician to find a vocalist who has the intangibles, the creativeness, the drive and can back it up with her God-given voice is so rare," he said. "Holly is as tough as nails and, man, does she always deliver. Always.
"I've been fortunate with the three women who have fronted this band. Holly, however, is it. It's not just her voice. It's the sass, the piss and vinegar that she brings to the situation. She's going to be herd in every process of machine. And that is just what the doctor ordered."
Written by : Chris Dickerson
Holly Plays: Piano and Sings
Born: Huntsville, Alabama
Fave Food: Good Ole country cooking
Kids: Yes
Pets: Yes
Fave Drink: Coffee wirh french vanilla creamer
Fave Past Time: Wedding / Event planner
---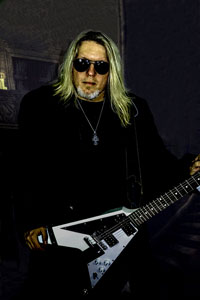 Jeff Westlake - Guitar -Vocals
Music is in Jeff Westlake's blood. Whether he's on stage performing in front of thousands of fans or in a studio mixing a song, Westlake's life is one long soundtrack.
"I can't remember a time in my life when music wasn't a big part of who I am," says Westlake, who picked up his first guitar at the age of 3. "It's in my DNA. Music is my life."
Westlake, an Ohio native, might be best known to the general public as a founder and the lead guitarist of Hydrogyn. He also recently released his first solo album titled "In The Key of Blue." But for those in the music industry, Westlake also is recognized for his studio prowess. He has produced, mixed, mastered and engineered for dozens of artists. He's also a gifted songwriter, and he has worked in nearly every music genre.
"The great thing about both aspects of what I do is that it's all about getting the emotion across," Westlake says. "On stage,you are delivering the emotion and the impact in its own unique way for that piece of music because when it's over, it will never happen like that again.
"Being in the studio, you are creating something that will be around forever, and you want it to go deep into the soul. So, in that respect, I love doing both. It's all about the emotion regardless if it's in the moment or forever, so both the stage and the studio are equally enjoyed."
When you add all of that to his years of experience in the music industry, Westlake is someone you want on your team. He has worked with talents such as Michael Wagener (Accept and veteran producer/mixer), Craig Goldy (Dio), Jeff Young (Megadeth), Dug Pinnick (King's X), James LoMenzo (Black Label Society), Ian Glenn Wright (English promoter), MickaelJublin (industry insider) and former Hydrogyn bandmate Jeff Boggs.
"There have been so many moments in my life that led me to where I am today," Westlake says. "Meeting Ronnie James Diofor the first time and getting his advice, the people I have worked with. Michael Wagener was the person who helped me harness what I wanted and do it properly. Ian Glenn Wright has been a mentor and motivator as well, and the same for MickaelJublin, both whom I met thru touring with Hydrogyn.
"The list of people who have helped me travel this road is a long one, and I'm thankful to each of them."?
Bottom line: Westlake has the talent, the knowledge, the experience and the connections to take you to the next level if you need help on either side of the studio glass.

Written by: Chris Dickerson

Jeff Plays: Washburn, Gibson and GV guitars
Amps:Randall RM100 and Kemper profiling amps.
Strings:Ernie ball 52/10 strings.
Born: Huntington, West Virginia
Fave Food: Sushi
Kids: Yes
Pets: NO
Fave Drink: Skrewball
Fave Past Time: Pro Wrestling
---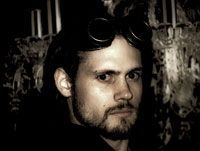 Scot Clayton II - Drums
Welcome Scot Clayton II
His dad's love of rock god Ronnie James Dio helped lead to Scot Clayton II becoming the new drummer for Hydrogyn.
Band founder and guitarist Jeff Westlake met Clayton's dad more than 20 years ago through a group called We Rock dedicated to Dio.
When it came time for the band to begin work on "The Boiling Point" earlier this year, former drummer John Cardilino wasn't going to be able to travel. So, Westlake reached out to the younger Clayton, who also has known new lead singer Holly Hines-Freed and bassist Jacob Freed for several years.
"I hadn't seen Jeff since I was kid," Clayton recalls. "And I didn't see him again until a few months ago."
Clayton had a wreck in November, and had to take time off from working as a mail carrier as he recovered.
"Jacob and Holly hit me up about joining the band, then Jeff called and asked the same thing," Clayton says. "I wanted to give it a shot, but I honestly wasn't sure how it would go. I'd never heard the tunes.
"But within four or five days, I had knocked out 16 songs. Apparently, they liked them. It ended up going pretty well."
Westlake agrees. "Scot is a walking machine," Westlake says. "He brings his own unique skill set that plays an important part of the band. And, he's the member of the band I've known longer than anyone in the band. I've known him since he was 13. It's a real pleasure to have him on board."
Clayton says becoming a member of Hydrogyn is a different level for him after playing in bands around Huntsville, Alabama, for years.
"It's kind of an insane opportunity," he says. "It's definitely a chance to shine. I think this is one of the coolest supergroups.
"Holly (Hines-Freed) is the most insane vocalist I've ever been in the room with. And, Jacob (Freed) and Ryan (Stepp) are just amazing, too. And I can't say enough good things about Jeff. It's just really a treat and an honor to be a part of this."
Clayton says he doesn't like to categorize his style of play or even compare himself to other drummers.
"I hate the labels," he says. "I want to throw all of that crap away and do what the song calls for. Music writes itself. If the song calls for something, you've got to give it to it. I've taken everything I've listened to and I love.
"I love every aspect of music, even country. I respect it all for what it is. I like to bridge everything together and create something new."
Clayton says he's also excited about the release of the new album.
"I'm so stoked," he says. "That's the easiest way to put it. We are going to make sure it's all up to par. It's going to blow everybody away. It's really good."
Written by : Chris Dickerson

Scott Plays: Drums and anything associated to them. .
Born: December 4th...........no records to prove it however
Fave Food: All
Kids: Yes
Pets: Yes
Fave Drink: Pirate drinks and Rootbeer
Fave Past Time: Life
---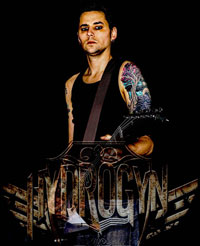 Ryan Stepp - Guitar
As work on "The Boiling Point" began in early 2020, Hydrogyn founder and guitarist Jeff Westlake found himself in need of another guitar player.
So, longtime friend Ryan Stepp stepped up.
"Jeff (Westlake) and I always hang out," Stepp said. "We'd always talk. We actually bowl together. I've known him all throughout the Hydrogyn days.
"We've always been supportive of each other and each other's music. We'd try to come out and see each other perform as often as we could."
Earlier this year, the bass player in Stepp's band Another Year Gone died. Stepp decided to drop out of the band. It wasn't long before Westlake called him and ask him to join Hydrogyn.
The new lineup rushed into the studio to begin work on the new album.
"I've never actually worked with someone like Jeff who has so much work ethic," Stepp says. "And everyone in the band wants to do this. The band is the priority. In the past, that wasn't always the case for different reasons. Something else always seemed to come first, and the music just happened when it could.
"With this band now it's the complete opposite. I've always wanted to do this. My drive has increased, too. And, it's so great to work with so many talented musicians."
Westlake says he's pleased to have Stepp in the band.
Ryan is a very sharp guy," Westlake says. "And, he brings with him a wide array of skill sets that brings a lot to the band on many different avenues."
Stepp describes the new album as full of kick.
"This is probably the most energetic album every for the band," he says. "So much more power. We have an adrenaline about us, and we have such a great stage presence. That was evident when we shot our first video. Plus, there's a lot more urgency and anger in this stuff compared to what the band has done before.
"I'm really excited. I can't wait for everyone to see and hear how great this album is."
The Coronavirus pandemic, however, has put some things on hold.
"We're in hurry up and wait mode now," Stepp says. "But, we understand. We're hopeful we can get out and take this music to the fans soon. All we can do is wait for now.
"Hopefully, this all clears up soon. We are looking forward to 2021. But, we still are going to be doing some writing … working on next one."
Stepp says he thinks fans are in for a treat.
"I can't wait for this music to get out there and hit everyone in the face," he says with a chuckle. "I hope the fans are as excited as we are. I'm just really looking forward to everyone seeing and hearing it."
Written by : Chris Dickerson
RyanPlays: Simply Guitar
Amps:Peavey 6505 and Triple X.
Strings:Ernie ball 52/10 strings.
Born: Huntington, West Virginia
Fave Food: Soups and Salads
Kids: Yes
Pets: Yes
Fave Drink: Coors Light
Fave Past Time: Prog Power
---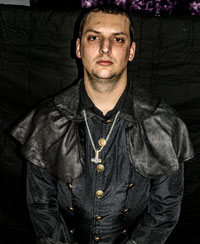 Jacob Freed - Bass
Welcome Mr Freed!!!!
"This is going to be fun."
That's how new Hydrogyn bassist Jacob Freed describes working with the band, its upcoming album and eventual worldwide tour.
"I'm itching to go back out and play again," Freed says. "And this band feels kind of like a new family. Nothing but good vibes from everyone. Ir's a great album, and I know we'll play some awesome shows when we're able to get out on the road."
Actually, one member of the band also is family. Jacob is married to lead singer Holly Hines-Freed. The rest of the lineup is founder Jeff Westlake on guitar, Ryan Stepp on guitar and Scot Clayton II on drums.
"You definitely can hear the influences from each one of us in every song, which I think is awesome" Freed says of the new album titled The Boiling Point. "There's a variety of stuff from nasty metal to really laid back stuff.
"These songs have come together really, really great. The songs are so well written and just so good. It sounds so natural."
Freed first met his wife in 2012. She was already in a band, and it needed a bass player. He stepped in. Soon, Jacob and Holly formed their own band called Angel's Revenge. Holly had worked with Westlake before and suggested he produce the band's album.
The three remained in contact over the years, and Westlake knew exactly who to call when he needed a new lead singer and a new bassist for Hydrogyn.
"I think I know who you need," Freed says he told Westlake. "That ended up with him asking Holly and I to be in Hydrogyn. Soon, we had the lineup we have now. And I think it's fantastic.
"I can't wait for everyone to hear this stuff."
Westlake has nothing but praise for Freed.
Jacob is young, and he's insanely talented in many different areas," Westlake says. "And, honestly, he's the right fit for the band."
For Freed, he's excited for other reasons as well.
"Holly and I have never been outside of the United States before," he says. "So, we're looking forward to going to Europe when we can to bring this music to old and new fans.
"And, working with Holly through all of this is just fun. I love it because when Holly is on stage, she's happy. And that make me happy. It's more time together for us. It works for us."
Written by : Chris Dickerson


Jacob Plays: Traben Array and Schecter Basses
Amps:Ampeg, Hartke and Kemper profiling amps.
Born: Carrollton Texas
Fave Food: Chinese
Kids: Yes
Pets: Yes
Fave Drink: Red Bull
Fave Past Time: In the studio